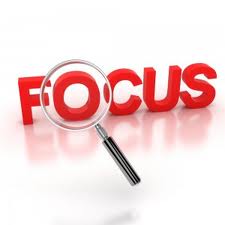 Hocus, Pocus, it's all about FOCUS! That's the real magic of goals!
Once set, the final thing to do is to make your goals visible. Write down your goals and put them where we will see them everyday. Look at them often and surely success will follow, as day follows night.
The above success principle has been praised by just about all those who have applied it. Those who do not apply it usually get left in the dust, goal-less. There are some who are able to bypass this principle and still enjoy great success, but they are few and far in between.
Here are 10 focus activities to implement.
1. Write down your goals and review them frequently. Immerse yourself in them.
2. Surround yourself with associate items, pictures, smells, feels, and/or tastes.
3. Think as if it's on layaway, it's in the bank, and confidently pay the price.
4. Create future references by visualizing you have received them already.
5. Talk about them all the time, and record your own enthusiastic voice to listen to.
6. Control your focus by crowding out the negative, overwhelming it with positive.
7. Break down your actions to the ridiculously simple, be specific.
8. Commited to yourself and those around you.
9. Set your mind to 'win', there is no other option to consider.
10. Have faith that this will happen, use the peak to peek principle.
One focus to success. Build momentum in all things instead of distraction. It is all about focus. You can make this work for you too. The real question to ask yourself is this:
How can I take these 10 'focus' strategies, use them as a ckecklist of sorts, apply them to my most important goal, make them work for me, and enjoy the process?
Well, how can you? And will you? You Can Do It!
Go for it!
Make It A Great Week On Purpose!!
With love,
xoxo
LaKeisha

"Passion Strategist LaKeisha Hankins helps Busy Moms Unleash Their Passions!!! Grab her FREE Training " Click Here
PS. Join My FREE Online Community Busy Mom's Mastermind Community on Facebook: bit.ly/BusyMomsOnFire
Facebook Comments