PASSION TO PROFIT 7 DAY CHALLENGE
TRAINING FOR SOLO-PRENEURS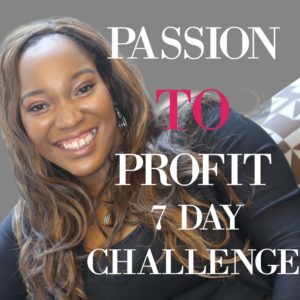 Learn How to Passion from your Passion in this 7 Day Challenge.
This challenge includes everything you'll need to create money FAST by leveraging your skills and expertise!

This Challenge is For You If You Want To: 
Turn your passions and skills into a profitable online business.
Create an offer your ideal clients can't resist
Sell more products and book more clients.
It's a skilled process, but during this challenge, you will receive daily tips to help you Unleash your online business and go from passion to profitable…
Turn Your Passion into Profit Sign Up Now
Challenge Runs January 15th - January 21st
Enter your contact information below to gain access...

We value your privacy and would never spam you

Copy Protected by