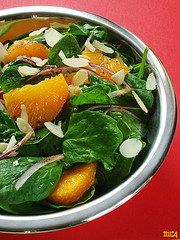 Spinach Avocado Orange Salad
As a busy mom, I am always looking for quick and healthy meals.   A Spinach Avocado Orange salad is perfect for the Winter.
The spinach avocado  orange salad  is healthy and simple.  I received the recipe from another mom in one of the meetup groups I belong to.  The recipe was recommended as part of our 12 day fast.
This salad recipe kind of sounded like an odd combination. The sweetness from the orange goes nicely with the tangyness of the lime and creaminess of the avocado.
Ingredients:
•1 orange
•1 Tbsp olive oil
•1 Tbsp lime juice
•Dash of sea salt
•2 cups baby spinach
•1 avocado, sliced
•Black pepper
Directions:
1.Section the orange and use a knife to cut off the skin from the sections. Try to drizzle any remaining juice into a small bowl.
2.In the small bowl containing the orange juice, whisk together the remaining juice, olive oil, lime juice, and sea salt.
3.In a serving bowl, add spinach and sliced avocado. Pour dressing over top and gently toss. Sprinkle with black pepper.
(Photo credit: olgucz)
~LaKeisha Hankins, Helping Busy Mom's Pursue Their Passions
Share This Healthy Recipe!
Facebook Comments