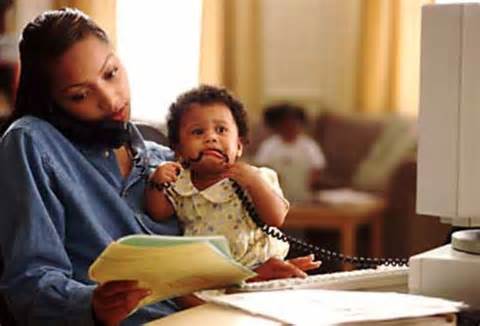 Have you ever dreamed of a being able to be home with the family and still make an income?  Most traditional jobs don't the meet the needs of a mom who desires to spend more time with her family.  Being a WAHM could be the solution to making your dreams a reality. But before you quite your day job here is some helpful information to take into consideration.
WAHM?
Just what do these letters stand for? WAHM stands for Work At Home Mom. Over the past 20 years, more and more moms have come out of the workplace and gone back into the home to work and take care of their families.
The decision hasn't been an easy one. It became apparent a long time ago that men were the only ones being allowed to "have their cake and eat it too." They could pursue a corporate career and still come home in the evenings to the family.
Women with careers had a different path to follow. Besides working long hours to achieve the same pay and credibility as their male counterparts, they also had to contend with the housework and the kids. After a long day at the office and doing the household chores, the kids sadly got what was left over, which lets face is usually a very worn out mom, because she is depleted from taking care of everyone else's demands.
That has since changed. WAHMs are proving everyday that women can contribute to the family financial situation and take care of their families. Both online and off, a network of support has been created for any woman who wants to consider an option that will help them meet their needs.
How to get started?
When you talk to your family about the possibility you want to have an idea of the direction you will take. Check out sites like http://www.lakeishahankinsonline.info , http://www.arise.com  They offer helpful hints to moms getting started with a work at home enterprise and also a network of opportunities for connecting with other WAHMs.
If your income has been a big part of the monthly family finances, then switching to a work at home enterprise will cause your finances to take a hit. Be sure there is enough financial cushion in your bank account to weather the first six months of your new career. It will take time to establish your business.
Opportunities
First, figure out your interests and skills. WAHMs can find business opportunities to work for someone else doing everything from audio transcription to writing articles to accounting. There are some scams online so definitely do your due diligence when researching.
Some WAHMs carve out their own niche and begin an online business. If you are skilled with crafting, you can create a website to promote your crafts and sell products. A blog is also another idea. Blog about your area of expertise and develop a following. Combine that with affiliate or search engine marketing to generate revenue, or making money on eBay.
Making it work
With new career comes the issue of balance between home and work. Just because you are home doesn't mean you won't need help around the house or time away from the kids in order to work. Consider these tips for creating a balance:
•             Develop a set schedule for work and play on a weekly basis
•             Discuss dividing up household chores between you, your spouse, and older kids
•             Do pre-work such as fixing lunches, prepping breakfast, choosing clothing the night before
•             Hire a babysitter once or twice a week
•             Separate home office space inside the house
Yes, there are  many advantages to being a WAHM. Plan carefully and be patient. Support from your family makes all the difference. It will take commitment and some work on your part. If you follow the steps outlined above, take action, and Bonus Tip: Get some accountability, you can make your goals a reality!
Make It A Great Week On Purpose!!
With love,
xoxo

Looking to Make Extra Income Online? Make Money on eBay
"Success Coach LaKeisha Hankins helps Busy Moms Unleash Their Passions!!! Grab her FREE EBOOK " The Busy Mom's Practical Guide To Unleashing Your Passions" at www.LaKeishaHankins.com
PS. Join My FREE Online Community Busy Mom's On Fire on Facebook: bit.ly/BusyMomsOnFire
Facebook Comments