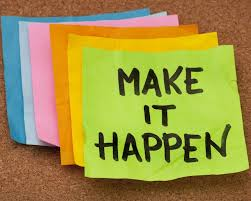 Can you believe it is December already?  My favorite month of the year!                           
It's time to get that Christmas tree up and do some caroling lol, and a little shopping. I was at the mall over the weekend while my girls where getting their hair down and I was so in the Christmassy spirit (is that even a word) because of the music, the sound of joy.  I am getting excited now just thinking about it!  My babies and I are looking forward to making hot cocoa, snuggling and watching Christmas movies, and getting ready for the Christmas Cantata at church, last year my girls praised dance, this year they are singing .. but let's not forget the real reason for the season…the birth of Jesus Christ!!!
December makes me feel all warm and fuzzy inside.. because of the love, you can just feel it in the atmosphere, imagine if that feeling, that loving spirit rolled over into each month, that would be awesome! This world needs more love.
I spent some time in November removing clutter and reflecting on my year, just how grateful and blessed I am. A year ago I was broke and feeling busted and disgusted, this year I am in a much better place. But even when I was down and my business was barely covering itself I still had an attitude of gratitude, I don't believe in pity parties or feeling sorry for myself because all things happen for purpose, it's part of my testimonial and it is going to FREE so many more people.  I don't think I have shared this before but I was making some decent money in my network marketing businesses, but I truly just wanted to  just coach, empower other women to go after their dream, fulfill my mission…so I just stopped, stopped everything and took 3 months off and in the midst of that I experienced another layoff, 2 in one year, you have got to be kidding me.  I missed the income I was generating but part of me was feeling so unhappy, but in the midst of all that I rekindled my relationship with God, got involved in ministry and it is been nothing but amazing, I am in ahh with what God is doing in his kingdom! I am ready to celebrate because 2014 is going to be awesome.!!! The goals I set are already starting to manifest!
We have 28 more days left of 2013, let's make it count!! I am not going to focus too much on my goals and intentions for 2014 just yet, right now it's important to just be in the moment, just be in DECEMEBER, and end this year with a BANG!! You Can DO IT!!
I have decided going forward I am going to share with you my goals each month!  Just to share with you the importance of writing out your goals and getting it DONE!! Now December will be a busy month so I am not going to fill my plate with things to do! I spend enough time being busy.
DECEMBER GOALS
Make more quiet time – My sister friend Lynn said it best, it is vital to our existence to spend quiet time with God.  Now I know it is important but the word choice she used, when she spoke it stirred something up! This is serious
Plan for Adeja's 10th birthday. Her birthday is on the 23rd
Declutter my life – I spent November decluttering my home and I feel so much better. I need it to stay like this.
My stepdaughter will be spending Christmas break with us! I am excited we moved to Georgia 3 years ago, this will be her first time visiting. So I am looking forward to some good times
Pray more for others. There are so many people hurting. If you have a prayer request, please email me and I will add you to my prayer list.
Launch my 12 days of Christmas Holiday Giveaway.
Attend the holiday banquet for servant leaders on December 7th..
Focus more on building relationships.
My cousin birthday party is on the 20th, she is the only family I have in GA and it is crazy I only see her on her birthday, once a year! I gotta do better.
Watch my favorite holiday movies with  the family.
Jadyn my 8 year old wants a doll house…so we are actually building one, wish us luck.

DECEMBER. YOU ROCK!
So tell me, what are your December goals?? 🙂
I want to help you stay accountable! Let's GO##
LaKeisha Hankins, Life Coach
Helping Busy Mom's Unleash Thier Passions
http://www.LaKeishaHankins.com
SHARE YOUR GOALS
PS.  Be sure to sign up for my 12 Days of Christmas Give-away – It's ABSOLUTELY FREE! Click Here
Facebook Comments